Cutwork 202
Machine embroidery designs to create tablecloths, doilies,
bedspreads and clothing.
Graphics and Inspiration
by Marie...
This ensemble is the second one in a series devoted to all the crafters like me that look at Cutwork,
also called Broderie Richelieu, and have this enormous envy of being able to create their own. If you are
anything like me, you are in awe of this needlecraft. BUT you tried once or maybe not at all and it's
just never as you would like it to be. This second installment in the Learn Cutwork Series offers
the same ease of use as the first one did but with additional techniques and tips have been added.
In Cutwork 202, you will find designs that are just as easy as the Cutwork 101 designs but I did add
some that are a bit more intricate. HAVE NO FEAR... I again added instructions with pictures at every
step and cut of the scissors to make sure that when you have completed your project, you can sit
back and say "Why was I ever scared of this" or "Well, that was fast!".
Again, there will be NO MORE fuzzies. There will be no more cutting the fabric or the stitches
at the wrong place because you weren't careful enough. It will be Perfect, just perfect. Did I mention fast.
I am once again including with these designs a very detailed instruction file with step by step
directions and pictures to allow you to visualize really well what needs to be done and how to do it.
These instructions will help you make continuous border designs without ever sweating or worrying again.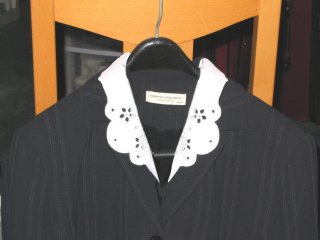 The most elegant collar in less than an hour.
Save time by using the simpler

edging on the back.
| | |
| --- | --- |
| Delicate and pretty. | |
Elegant Examples


So elegant and So much faster then the regular lace.
Left: A simple and easy doily.

Above: A delicate and soft handkerchief.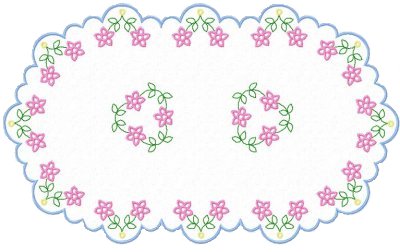 A 14" wide x 22" long table runner.
Can you just imagine it!
Note that the set comes with completely illustrated instructions to make
your project the easiest one ever.