for the 4x4 hoop. All the clothes and accessories fit the 4x4 hoop.
Are you wanting to make a gift for a special occasion, but you are out of time?
These little jewels of embroidery are exactly what you need. They are quick to make and allow
the use of any and all fabric scraps you may have. What is special about them, for today's
children, is that we are using actual fabric. They have the feel and appearance of REAL
clothing. We can use real denim, dupioni silk, lace, etc... Stitch them with polyester
thread and they will be easy to care for.
If the kiddos are old enough to handle a needle, they can also get involved in embellishing
them with trimmings, ribbons, buttons and crystals. They actually are creating their own
personal fashion adviser or their own imaginary world.
Cute Examples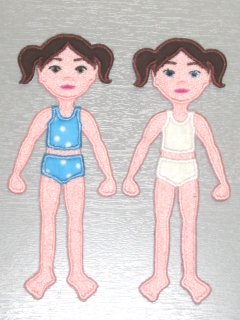 Note that on the left, the undies/tankini are
done with fabric. On the right, they are done
with lace. We can now use lace as an applique
fabric with the help of
Appli-Kay Wonder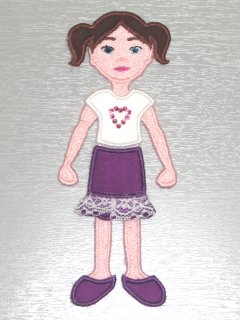 Crystals have been applied to the top for
a cool and realistic effect. A bit of lace
trim has been added to the skirt.
| | |
| --- | --- |
| For a REAL effect, use denim for the pants. | A bit of rhinestone trim makes a cool belt. |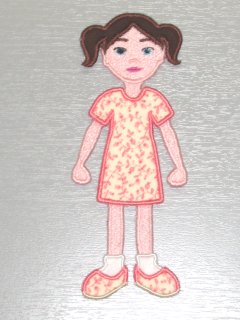 A softer and more traditional look for Church.
| | |
| --- | --- |
| Like in any wardrobe, mix & match | to create an infinity of ensembles. |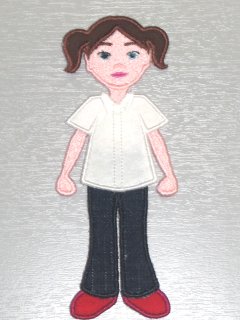 Of course, like in real life, most of
Davey's clothes fit his sister but Cloe's
clothes are for her own use only!
| | |
| --- | --- |
| Doesn't he look like a good boy? | Of course, boys will be boys! |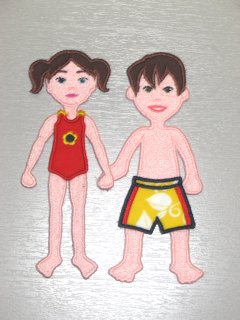 Ohhh, aren't they cute?
Our Dolls wouldn't be as much fun without
the perfect storage and play board.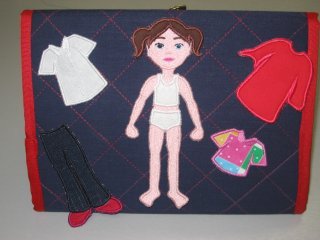 The clothes hold in place by applying a repositionable
adhesive to them such as Aleene's Tack it Over & Over,
Washaway Wonder Tape by Dritz, Double Side Tape, etc...
It makes the project easy to do, easy to play with and
easy to care for.
Note that these paperdoll designs come with step-by-step instructions with photos at every step.
Step-by-step instructions for the clutch to store both the dolls and the clothings, have also been
included to create a complete and ready to be offered gift ensemble.
Design Information