Ornaments 2
Freestanding Lace Machine Embroidery Designs
These are free standing lace designs. Each ornament comes in two different sizes
in either one color or multicolor and facing left and right.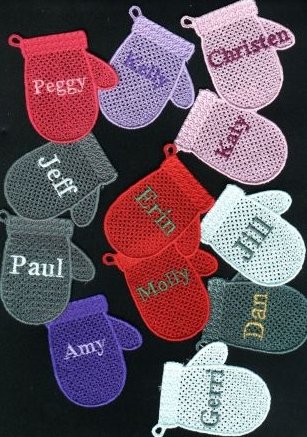 Very well done by Peggy Funl
Thank You Peggy!
They can be used alone or stitch 2 back to back and you can fill them with candy canes,
small gifts like jewelry and money. Use them as little card holders or place settings.
Use 2 pieces back to back again and fill with apple cinnamon pot pourri and hang
around the house, the Christmas tree and in gift boxes to offer a pleasing smell
to the receiver. Blank ornaments have been included so that you can use with any design that
you might already have for which the size would be appropriate and the blanks are also
great to put letters on and write seasonal messages, names or anything you like.
All designs fit a 4x4 hoop
The large sizes are about 3.93 inches high and the small ones are about 3.00 inches high.
Please take note that dark colors under pale colors or pale colors under dark colors
tend to show through, so test your choices of colors before actually starting
to make sure you like the end result.