Jennifer's Dream
Edgings & Insertions
Freestanding Lace Trim/Edging Machine Embroidery Designs
Dedicated to one of the amazing Angels in my life Jennifer.
Are you pressed for time? Do you need a gift, a REALLY good looking gift in a short time?
This ensemble is for you. Defying the laws of digitizing, the designs have an amazing handmade feel, making them
light and soft but very resilient and beautiful. Make a priceless ensemble rapidly for a few dollars with this
collection. This collection offers 6 different styles of matching edgings and insertions. They may be used
individually or combined to create your very own one of a kind lace.
This means you are getting 6 design sets of 10 or more designs each,
all in one collection, making this collection a good investment.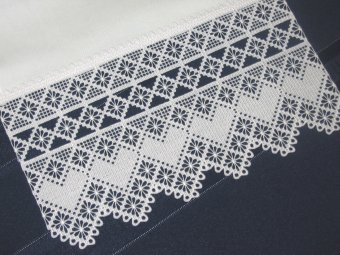 Combination of 2 edging and 2 insertion designs
which were a total joy to stitch for this tablerunner.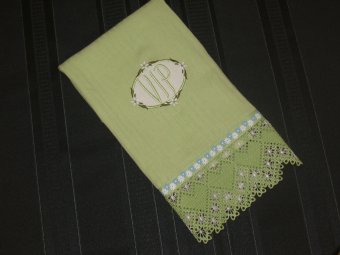 This style is 1 edging in 2 colors.
You can add beads, pearls or crystals
for even more wowness!

The frame and monogram are from Elevation:
Click here: Elevation
6 different styles of matching edgings and insertions to be used individually or combined together to create
your very own one of a kind lace. From an elegant edging to a complete set of lace curtains, anything is possible
with these elegant and versatile designs.
NOTE: None of the pieces have any jump stitches in the one color designs and as few as possible in the 2 color designs.
Individually
Matched together... one exquisite lace border of 15" wide by 7"
This is only an example, you can create pieces as wide and as long as you wish.

We are including with these designs a very detailed instruction file. There are step by step directions

and pictures to allow you to visualize really well what needs to be done and how to do it. These

instructions will help you to make continuous border designs without ever sweating or worrying again.
Design Descriptions
Total of 68 designs of lace perfection!!!

NOTE: Designs can be used in the 4x4 hoop and bigger. Only the number of connections you'll need to do will change.
The sample design is offered in one format only.
Click here if you need a free Conversion Software