Bookmarks in Cross Stitch
Machine Embroidery Designs


These bookmarks are the cutest thing ever...
they make a great little gift that says
Merry Christmas, Thanks for Having us over, Happy Birthday or
just plain "Thanks for being a wonderful friend"


The pictures that you will see are the actual stitch outs of the
designs on the different materials on which I tried them.


The designs all fit the 4 X 4 hoop and can often two bookmarks can be stitched in the same hooping.
They were tested on regular felt, the new very stiff almost like cardboard felt and puffy foam.


NO JUMPS
Set of 12 designs

Designs are stitch intensive and may require good stabilizing
All have been tested.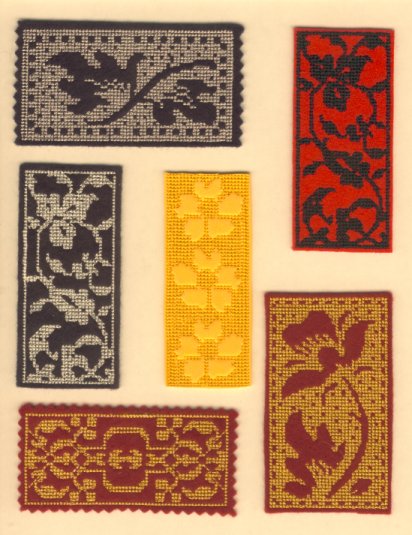 Upper left: navy regular felt with silver thread, regular stabilizing
Upper right: red stiff felt, black thread, no stabilizer
Center left: navy regular felt, white thread, regular stabilizer
Center center: yellow puffy foam, yellow thread, tear-away stabilizer
Lower left and right: wine red regular felt with gold thread, no stabilizer
Of course you can finish them whatever way you choose.
Use straight or zigzag scissors.

When using the stiff cardboard like felt without any stabilizer, no need to
do anything on the back it is perfect as is.

When using regular felt, you can choose to use stabilizer or not that will
depend on the quality of your felt, of course, you should always do a test
sew out before actually sewing your project.

Many other types of fabric can be used. It is all in the way you will
finish the bookmark. I sometimes cut a piece of the fabric the exact same
size of the bookmark and stick it to the back of the bookmark and using a
decorative stitch, I stitch all around.

Personally I prefer not adding ribbons or cording to my bookmarks but
many around me like them with a cord... so a cord or a ribbon can easily be added by
cutting a hole on a part of the bookmark that doesn't have any stitches,
making sure not to cut any stitches.
The Complete Set