Blossom Delight
Lace Bowl Set

Freestanding lace designs to create lace bowls/baskets, coasters,
napkin rings, tie-backs and wine glass coasters.
Original Graphic Inspiration
by Marie...
This set includes designs to create 8 different bowls. Many variations of coasters are also included.
A beautiful tie-back or bookmark can be created out of the napkin ring pieces. This set offers countless
possibilities on it's own and even more matched with any of the other 2 sets of the collection.
Left view: Bowl with petals standing up

Above view: Bowl with petals folded out.
View includes the bowl, the napkin

ring and a wine glass coaster.

A regular coaster is also

included in the LaceBowlSet.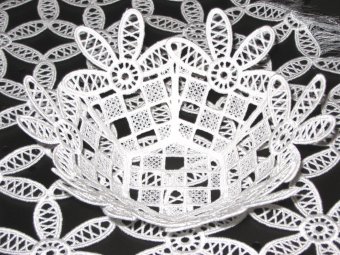 The bowl is done with LaceBowlSet
and it is resting on a doily made with
LaceMaking and LaceEdgingInsert.
Designs were embroidered on 1 layer of Wet N Gone water soluble stabilizer.
The threads used were Marathon Poly 40 weight and wonderfully shiny Floriani Poly 40 weight.
NO JUMP STITCHES
in the one color designs and kept to a very strict minimum in the multiple color designs

and, of course, the necessary length needed for the fringe.

Note: The set comes with completely illustrated instructions.
Each design variation has been digitized to offer you the best stitchouts possible.
The order of stitching is not the same for each variation. As soon as there are color
changes, the order has been changed and stitches have been added or removed to make
sure that your stitching experience will be fun, relaxing and enjoyable.
LaceBowlSet - Design Descriptions
Includes step by step instructions to make a lace bowl, a coaster and a napkin ring.